Dakota Baptists Celebrate in Huron
Dakota Baptists Celebrate in Huron
67 messengers from 34 Dakota Baptist churches gathered in Huron last month to "Celebrate Intentionally Together." An additional 25 guests joined in the celebration. The annual meeting of the Dakota Baptist Convention, known as the Dakota Baptist Gathering, met October 6-7 in Huron, SD at the Nordby Exhibition Hall on the South Dakota State Fairgrounds for worship, fellowship, and to conduct God's business.
.
DBC president Jeffrey Mueller opened the meeting with his president's address where he took the attendees through the book of Philippians. He highlighted the apostle Paul's challenge to, "Rejoice in the Lord always: and again I say, Rejoice." Music was provided by the Restore Church worship team throughout the entire event.
.
After Mueller's message breakout sessions were held for men and women. The women's session featured Sarah Deible (Creator's Fellowship: Sharp's Corner, SD), Anne-Marie Caldwell (Calvary Baptist: Rapid City, SD), and Denise MacDonald (Hills of Grace Fellowship: Rapid City, SD). SBC Woman's Missionary Union executive director, Sandra Wisdom-Martin, shared missionary stories that she has gathered over the years.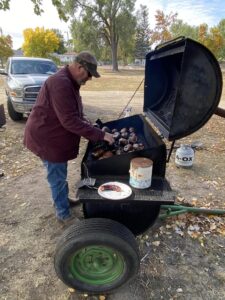 In the men's session, Chris Wallace (Hope City Church: Bismarck, ND) preached on "A Call to Build Culture that Celebrates" and Steve Ford (Grace Baptist Church: Vermillion, SD) preached on "Never Stop Celebrating the Gospel."
.
The breakouts were followed by a missions banquet built around the theme, "Celebrating God's Work Beyond the Dakotas." Representatives from various SBC agencies shared a word of greeting and what God is doing around the Southern Baptist Convention. Huron Baptist pastor, Ian Harp, prepared a smoked BBQ meal for everyone.
.
During the Thursday evening business session, messengers heard a report from Executive Board chairman John Flowers and adopted the 2023 budget and calendar. Following business, Jeff Robison (New Life on Main: Harvey, ND) preached a message, "Celebrating Revitalization." The evening session ended with recognition of retiring and new pastors.
.
The Friday morning session opened with a Bible study by Gateway Seminary president Jeff Iorg. Messengers approved reports from the Nomination and the Resolutions Committees and presidential appointments.
.
The approved nominations report included Karen Holmes (First Baptist Church: Wolsey, SD) as recording secretary and Tom Stewart (Hills of Grace Fellowship: Rapid City, SD). New and returning Executive Board members approved included: Steve Ford (Grace Baptist Church: Vermillion, SD), George Crawley (First Love Church: Lincoln, ND), Josh Bonner (Calvary Baptist Church: Rapid City, SD), Jeff Robison (New Life on Main: Harvey, ND), Kristyn LaBine (Hills of Grace Fellowship: Rapid City, SD), and Dave Utter (Black Hills Baptist Church: Whitewood, SD).
.
Messengers also approved President Mueller's appointments of Chris Little (Hilltop Baptist Church: Lower Brule, SD) to the Constitution & Bylaws Committee and Chris Collier (First Baptist Church: Langdon, ND) to the Nominations Committee.
.
New officers were elected by the messengers. Josh Brown (Redeeming Grace Church: Rapid City, SD) was elected president. Ian Harp (Huron Baptist Church: Huron, SD) was elected as vice president.
.
Three resolutions were received and approved. The first was a resolution expressing gratitude and appreciation to the meeting hosts. The second was a resolution of celebration and appreciation for church planting. The third was a resolution calling on men to be intentional to love their wives and make their families their top priorities.
.
After staff reports, DBC Executive Director Fred MacDonald preached his annual message. The sermon, "When God Celebrates," was an exposition of Zephaniah 3:12-20.
.
The Gathering concluded with lunch and a final message from Dr. Iorg.